Kissimmee Charter Bus Company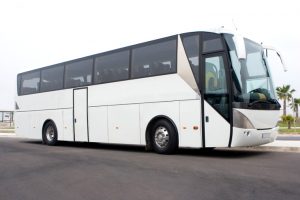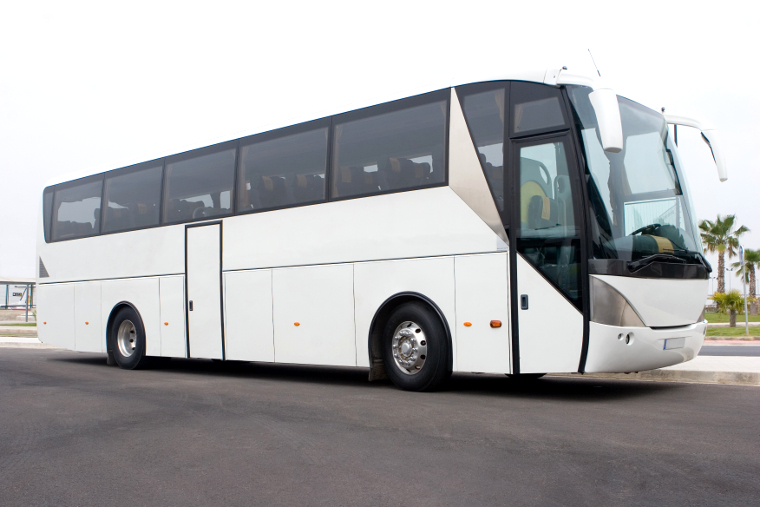 Calling all Disney fans!  Grab your vintage Mickey tee and get ready to meet Prince Charming, we are headed to Kissimmee! While Kissimmee is not the primary address of Walt Disney World, it is just around the corner.  Some of the parks and several of the resorts spill into the city.  Kissimmee is the largest city in Osceola County.  Needless to say, transportation can be a nightmare!  That is where we come into play!  Orlando Party Bus has a wide variety of charter buses, shuttle buses and coach buses that can get you and your entire group to the next resort, amusement park or attraction without the hassle of navigating congested traffic and lost tourists.  Finding a vehicle that meets your needs is our specialty. We have options for small and large groups alike.  There are the shuttle and minibuses, that accommodate anywhere from 15 to 40 passengers.  As well as larger charter buses that can fit up to 55-60 passengers at a time. Orlando Party Bus takes pride in making bus transportation service easy and convenient for everyone!  No matter the "who" or the "what", we have the "how" covered!  After a long day of walking the parks or outlet mall, let us do the driving.  Our easy-to-use website makes your experience a pleasant one.  You can request an instant online quote and will be the number one priority of our expertly trained reservation staff.  
Charter Bus Rental Services
Corporate Events
Sports Team Transportation
55+ Senior Group Transportation
Prom & Homecomings
School Events
Conference & Seminar Transportation
…..Much More!
About Kissimmee, FL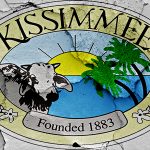 Kissimmee, originally named Allendale after Confederate Major JH Allen, who operated a steamboat along the Kissimmee River, the Mary Belle, was renamed Kissimmee in 1883.  No one is quite sure from where the name Kissimmee hails, other than of Native American origins.  Steamboats were the first source of revenue for the city.  Soon thereafter, the railway came and disrupted the effectiveness of the shipyards, causing them to by the wayside.  During this time, the economy shifted to one based in citrus packing and ranching.  But that soon changed in 1971 when Disney World opened.  The tourism and land development that ensued, changed the trajectory and population of this city monumentally.  For more information on the city of Kissimmee, visit their website at https://www.kissimmee.org.  
The BEST Things To Do In Kissimmee, FL
Walt Disney World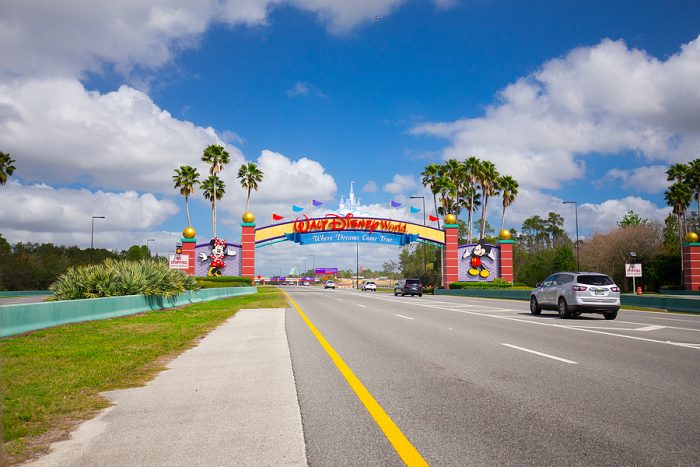 Now, let us address the proverbial elephant in the room.  Dumbo is that you?  One simply cannot come to the Kissimmee area without visiting one of the many Walt Disney World attractions.  Whether you plan to take a selfie with Cinderella in front of her castle at the Magic Kingdom or visit the land of Pandora at Disney's Animal Kingdom, or maybe you plan to get your scare on at Universal Studios during Halloween Horror Nights, the parks at Walt Disney World have it all! Whatever it is you have planned; you are sure to make memories that last a lifetime with your family and friends.  Disney offers four parks: Magic Kingdom, Epcot, Universal Studios and Animal Kingdom.  During your visit, travel to lands both far away and fictional.  Utilizing your imagination and all five of your senses, your visit will be magical to say the least.  There are rides, adventure, fun and thrills around every corner.  Enjoy a treat from one of the many concessionaires as you stroll throughout the parks.   There are gift shops and souvenir stands scattered throughout, sure to satisfy the tastes of the most seasoned shoppers.  But your experience does not necessarily end here.  The Walt Disney World Resorts bring the same magic you experience in the parks to your stay.  Rooms decorated in classic Disney themes, with water parks, arcades, movies, shopping, dining and so much more located right on the property make your Kissimmee getaway one of which fairy tales are written. 
Address: 1375 E Buena Vista Dr, Orlando, FL 32821
Everglades National Park
Aside from donning your best set of "ears" and matching Disney themed shirt, what is there to do in Kissimmee?  How about a tour of the Florida Everglades?  Visitors can tour the Everglades via an airboat and see nature up close and personal.  From vegetation specific to the area, to wildlife such as turtles, fish and alligators, the airboat tours are sure to thrill and educate you and your guests.  Central Florida has a rich equestrian history.  With that being said, there are several options for horse trails, riding lessons and the like.  And the nature theme surely does not stop there!  Are you still looking for some R&R in a natural environment?  Check out the two-hour Cypress Forest Guided Kayak Tour.  The tour goes through Shingle Creek which feeds into the Everglades.  The creek is shaded by a beautiful cypress forest.  Along the way you will see spoonbills, frogs, hawks, egret and even alligators!  
Address: Everglades National Park 40001 State Road 9336 Homestead, FL
Medieval Times Dinner & Tournament
If you are a thrill seeker, be sure to check out the helicopter tours!  They are offered both day and night and offer a bird's eye view of Kissimmee, Orlando and the surrounding area.  These tours, guided by a licensed pilot, are fun and educational.  If it's entertainment you crave, then look no further!  Kissimmee offers several unique experiences for visitors.  Venues such as Medieval Times, give the audience an experience unlike any other.  Here guests are entertained by jousting knights on horseback, fighting for the attention and admiration of the royal queen.  Dinner is a 4-course meal, eaten like a king-without utensils!  For show times and prices, visit their website https://www.medievaltimes.com/ 
Address: 4510 W Vine St, Kissimmee, FL 34746
Capone's Dinner and Show
Another fun option is Capone's Dinner and a Show.  Knock three times, give a secret password and be transported to Chicago in the 1930's.  A talented cast delivers an action-packed show, complete with song and dance and lots of laughs.
Address: 4740 W Irlo Bronson Memorial Hwy, Kissimmee, FL 34746
Orlando Vineland Premium Outlets
Shop till you drop at the nearby Orlando Vineland Premium Outlets. This sprawling outdoor outlet mall offers clothing, shoe, accessory and specialty shops, as well as several dining and refreshment options.
Address: 8200 Vineland Ave, Orlando, FL 32821
Disney Springs
During your visit, head over to Disney Springs.  This magical Disney city offers a movie theatre, concert venue as well as ninety shops, sixty-three dining options, and twenty-three whimsical attractions, shows, and events. 
Address: 1486 Buena Vista Dr, Lake Buena Vista, FL 32830
Old Towne
Another favorite stop when in the area is Old Towne.  Ten acres filled with shops, restaurants, bars, and other entertainment options provide hours of entertainment for your group.   Here visitors can ride a roller coaster, carousel, or Ferris wheel.  There are car shows and live music on various nights of the week as well.  With carnival style games and souvenirs, Old Towne will provides something for everyone!
Address: 5770 W Irlo Bronson Memorial Hwy, Kissimmee, FL 34746
Hungry?  Why not take a Foodie Walking Tour of Kissimmee?  Kissimmee is known a cultural crossroads.  The local cuisine is a true reflection of this fact.  On this tour your will sample hometown favorites and discover tasty treats as you munch your way around the city.  When it comes to food, Kissimmee provides a cornucopia of options.  From fine dining to local cuisine you have a variety of options for breakfast, lunch, and dinner.  Locals and visitors alike have declared that the following ten restaurants are the best in the area.  Check them out and decide for yourself! 
King O Falafel offers Mediterranean fare and some Indian selections in a casual setting for those looking for a taste of something fresh and spicy. – Address: 5045 W Irlo Bronson Memorial Hwy, Kissimmee, FL 34746
Sabor Brasil specializes in authentic Brazilian cuisine with entrees sure to satisfy. – Address: 3262 Vineland Rd #103, Kissimmee, FL 34746
Jimmy Bears BBQ uses recipes from several generations to provide a true southern BBQ experience. – Address: 4247 13th St, St Cloud, FL 34769
Woodsby's Countryside Café serves breakfast, lunch, and dinner from their award-winning menu. – Address: 4515 S Orange Blossom Trail, Kissimmee, FL 34746
Tarantino's Italian Restaurant, if it's Italian that you crave, then is a must! This Italian family style restaurant, serves your traditional Italian favorites.- Address: 2095 E Irlo Bronson Memorial Hwy, Kissimmee, FL 34744
BurgerFi specializes in burgers made from natural Angus beef with a unique twist on a classic American favorite. – Address: 765 W Osceola Pkwy, Kissimmee, FL 34741
Drafts Sports Bar & Grill is a great place to drink a beer, eat some wings and watch the big game. – Address: 9500 Turkey Lake Rd, Orlando, FL 32819
Savion's Place offers everything from seafood to American cuisine with several gluten-free options. – Address: 16 E Dakin Ave, Kissimmee, FL 34741
El Tapatio Mexican Restaurant is a must for authentic Mexican food, prepared from scratch daily, nothing says vacation like the salted rim of a margarita glass. – Address: 1804 W Vine St, Kissimmee, FL 34741
Rock and Brews offers traditional American favorites in a fun and hip environment. The décor at this restaurant is definitely Instagram worthy! – Address: 3284 Margaritaville Blvd, Kissimmee, FL 34747
Kissimmee Charter Bus Rentals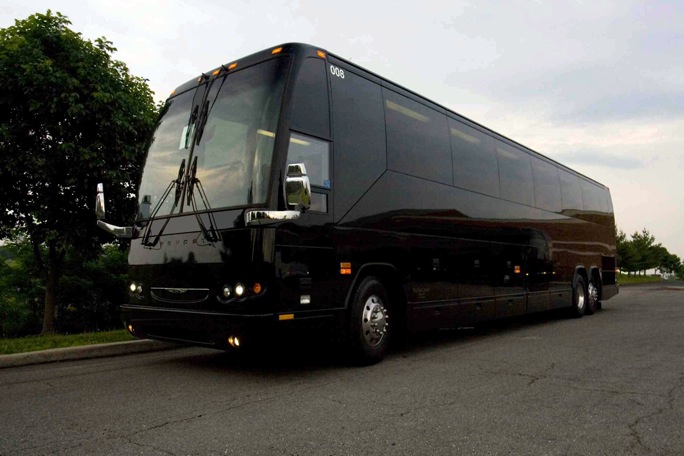 50 Passenger Charter Bus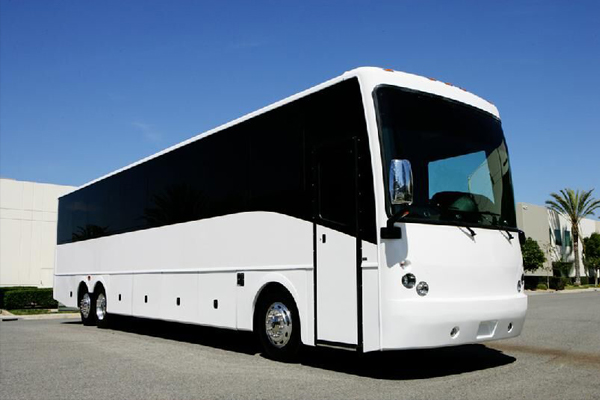 55 Passenger Charter Bus
Regardless of your travel plans or group size, Orlando Party Bus can provide comfortable and stylish transportation.  We pride ourselves in making the process simple and convenient.  Our online quotes and reservation staff make this possible.  Our wide selection of charter buses, shuttle buses, and minibuses can accommodate groups from 20 to 50 plus passengers.  We have a wide selection of colors and styles available as well.  Do not let transportation worries keep you from missing out on the trip of a lifetime. Whether your planning a wedding, a family outing, or simply visiting the amusement parks, let Orlando Party Bus take the worry and stress of transportation.  We will get you where you want to go safely and comfortably.  Sit back and relax and enjoy the ride!  We hope to see you soon!
---
Charter Bus Rental FAQ
How much does it cost to rent a charter bus?
Typically a charter bus rental can average $160 per hour to $200 per hour depending on many factors such as number of passengers and trip length.
How many people can you fit in a charter bus?
Charter Buses come in many different sizes from 50 passenger to 65 passengers.
How to rent a charter bus?
Renting a charter bus is a simple process that begins with a phone call. Contact us today for a free estimate on your trip.
Where can you take a charter Bus?
A Charter Bus is the perfect method of transportation for larger groups. Most Charter Buses can travel to stadiums, national parks, amusement parks, and much more!
Kissimmee Charter Bus Prices
| Vehicle Type | Vehicle Passengers | Hourly Rates* |
| --- | --- | --- |
| 50 Passenger Charter Bus | Up To 50 | $130-$180 |
| 55 Passenger Charter Bus | Up To 55 | $180-$230 |
| 56 Passenger Charter Bus | Up To 56 | $230-$280 |
| 60 Passenger Charter Bus | Up To 60 | $280-$400 |