Weston Charter Bus Company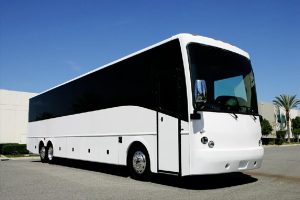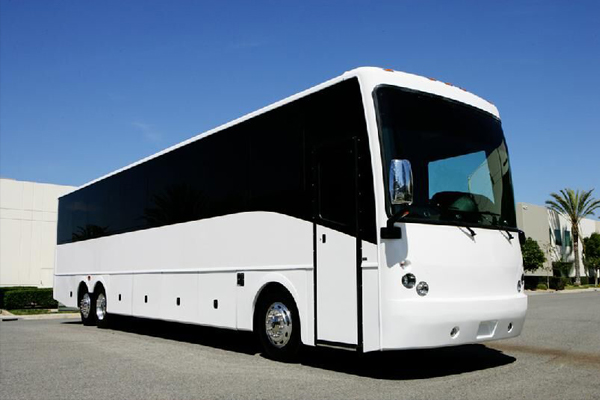 Weston is ranked as one of the top cities in the country in which to live by Money Magazine, Family Circle and USA Today. The residents of this master-planned city could not agree more. Weston is picture perfect. Located in southwestern Broward County bordering the Florida Everglades, and only twenty minutes to some of Florida's most famous beaches, this culturally diverse city is spread across twenty-seven miles. The lifestyle, appearance, and management this city enjoys is one that many others around the world wish to emulate. Because of its infancy and design, the attractions in Weston are few, however, its proximity to Ft. Lauderdale and Miami, make this a prime location for those looking for a quiet and relaxing getaway, but within a short distance of the city.
Regardless of whether you plan to stay local and enjoy the peace and sanctity of Weston or venture out to the beaches of Miami or Ft. Lauderdale, Orlando Party Bus has you covered. We have a wide variety of charter buses, shuttle buses and coach buses that will get you and your entire group where you want to go. Finding a vehicle that meets your needs is our what we do. We have options for small and large groups alike. There are the shuttle and minibuses. These busses can accommodate anywhere from 15 to 40 passengers. As well as larger charter buses that can fit up to 55 to 60 passengers at a time. Orlando Party Bus takes pride in making bus transportation service easy and convenient for everyone involved! No matter the "who" or the "what", we have the "how" covered! Our easy-to-use website makes your experience a pleasant and memorable one. You can request an instant online quote. And when you communicate with our expertly trained reservation staff, rest assured, you will be their number one priority.
Charter Bus Rental Services
Corporate Events
Sports Team Transportation
55+ Senior Group Transportation
Prom & Homecomings
School Events
Conference & Seminar Transportation
…..Much More!
About Weston, FL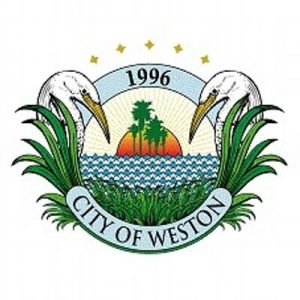 Officially established in 1996, it is safe to say, Weston is one of south Florida's newest cities. Having started as a land development and undergoing several different name and zoning changes, this city has established itself as a self-sustaining community. Weston is home to seven schools, fifteen parks, several tennis courts, a YMCA, community center and an Arts Council. This south Florida city is a family oriented, culturally diverse community. It is also home to many notable names. Gucci Maine, a top hip-hop recording artist, Randy McMichael of the San Diego Chargers, Udonis Haslem of the Miami Heat, Dan Marino, NFL Hall of Famer and former Miami Dolphins Quarterback, Pretty Ricky, a hip-hop group, Jason Taylor, formerly of the Miami Dolphins, Angelo Dundee, professional boxing trainer and corner man to Sugar Ray Leonard and Muhammad Ali, Bernie Kosar, former Cleveland Browns and Miami Hurricanes quarterback, Sami Gayle from the popular TV show "Blue Bloods", just to name a few.
The BEST Things To Do In Weston, FL
Peace Mound Park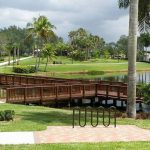 With such close proximity to the Florida Everglades, nature is a large part of the beauty and allure of this city. Peace Mound park for example, is ten acres of exercise trails, scenic lake and bird watching. The trails are marked with plaques highlighting the life of the Tequesta Native Americans who originally inhabited the area. Of course, the Florida Everglades offer excitement to visitors who hope to spot an alligator in its natural habitat. This area spans over thirty miles and is the home of the ever-popular airboat tours.
Address: 1300 Three Village Rd, Weston, FL 33326
---
Oleta River State Park
Just minutes from Weston is the Oleta River State Park. Home to hardwood forests, mangroves as well as miles of hiking and biking trails that allow visitors to feel at one with nature. The park is more than one thousand acres long and it the largest and most diverse of its kind in the entire state.
Address: 3400 NE 163rd St, Golden Beach, FL 33160
Ft. Lauderdale beach
It is not unusual to come to Florida and spend an entire day or two at the beach. Ft. Lauderdale beach is one of the best in the state, and country for that matter. The oceanfront beach park boasts a playground, basketball, and volleyball courts. You can rent beach chairs and umbrellas as well. There are a variety of food and drink options along the strip as well. Cooper City, the home of former NFL player and collegiate All-Star Brian Piccolo is home to a park that shares his namesake.
Address: 1100 Seabreeze Blvd, Fort Lauderdale, FL 33316-2426
The Brian Piccolo Park
The Brian Piccolo Park is two hundred acres of activity filled terrain. A skate park, basketball courts and soccer fields can be found here as well as a great place to catch a game of cricket! Flamingo Gardens, another natural wonder, is comprised of sixty tropical acres of paradise located near Weston. This park has been a favorite attraction of visitors and locals for several years. Gardens with both native and non-native plants, flowers, and arboretum are sure to please the nature enthusiast in you.
Address: 9501 Sheridan St, Hollywood, FL 33024
Bonnet House Museum
While Weston is new on the scene, several of the surrounding communities are part of Florida history. Visitors can take a stroll into yesteryear when they visit attractions such as the Bonnet House Museum. Over a century ago, a wealthy man gifted this home to his daughter, a newlywed bride, and her husband. Sadly, the young woman died a few years later and since that time the Bonnet home has undergone several renovations. In the late 80's, it was donated to the state of Florida for preservation.
Address: 900 N Birch Rd, Fort Lauderdale, FL 33304
Young At Art Museum
As in many Florida communities, the arts are an integral part of Weston's allure. The Young Art Museum, in neighboring Davie, FL was created with the notion that art and creativity should be the cornerstone in a child's development. This is one of the most memorable stops for children on a Florida vacation, as it simultaneously engages and educates them. Also, in Davie, is Color Me Mine. A unique art experience for children and adults alike. Here guests can decorate ceramic bowls, plates, and vases. A family favorite is the Museum of Discovery and Science. It features a WWII flight simulator, IMAX theatre, a dinosaur graveyard full of fossils, and so much more. The museum is a mix of entertainment and education with a café and gift shop to commemorate the visit!
Address: 751 SW 121st Ave, Davie, FL 33325
Weston Town Center
If there is a shopper amongst you, head on over to the Weston Town Center. Here you will find several boutiques, specialty shops, and dining options, both casual and upscale. A few of the shops you will find here include, Weston Jewelers, The Cheese Course, Prime Time, and Via Moda. If you are looking for something more laid back and casual, check out the Yellow Green Farmers Market. It is comprised of hundreds of different vendors and covers over one hundred thousand feet of floor space. Open on Saturday and Sunday, this market has a wide variety of fresh produce, unique to the area. While produce is plentiful, it is not the only thing you will find at this market. Prepared foods such as salsa, honey, baked goods, and coffee, as well as wellness and health and beauty products are available as well.
Address: 1675 Market St, Weston, FL 33326
One of the best things about vacation is eating foods you do not have access to at home. South Florida offers a wide variety of ethnic and traditional American fare, reflective of its diverse population. If you have young children or teenagers in your crew, odds are, at some point, pizza is going to happen. Luckily, the options are plentiful.
Anthony' Coal Fired Pizza – Address: 4527 Weston Rd, Fort Lauderdale, FL 33331
Pizza Lovers – Address: 1691 Bonaventure Blvd, Weston, FL 333
Pizza Fusion – Address: 2378 Weston Rd, Weston, FL 33326
DelVecchio's Pizzeria & Italian Restaurant – Address: 1795 Bell Tower Ln, Weston, FL 33326
Angelo Elia Pizza Bar and Tapas are ranked in the top five. – Address: 1370 Weston Rd, Weston, FL 33326
If it is Italian you crave, not just pizza, check out these local favorites…
Tarantella Ristorante & Pizzeria – Address: 1755 Bell Tower Ln, Weston, FL 33326
Zona Blu – Address: 189 Weston Rd, Weston, FL 33326
Bellini Italian Bistro – Address: 2780 Weston Rd, Weston, FL 33331
Acquolina – Address: 2320 Weston Rd, Weston, FL 33326
Las Olas, a strip of shops, bars, and restaurants is also nearby. There are several options from which to choose. Whether you are looking for casual, family style dining, and upscale experience or a waterfront meal with your sweetie, Weston and the surround areas offer all of that and more. Is it a salted rim and a fajita you crave? Look no further! I Love Taco's has just what you are looking for! Chinese food is ALWAYS a good idea. Check out Parc 28, Wok to Go, Rice Up Asian Kitchen and New Asian Restaurant for dishes that are sure to bring good fortune and a full belly.
Weston Charter Bus Rentals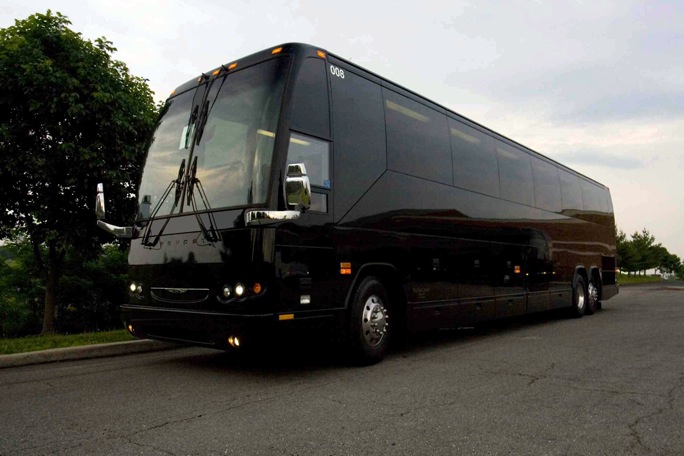 50 Passenger Charter Bus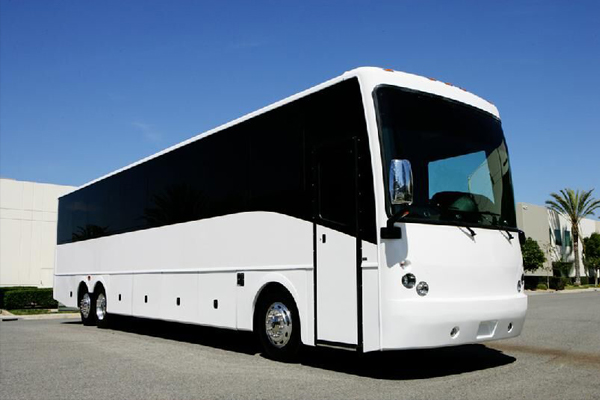 55 Passenger Charter Bus
No matter what it is you want to do; eat, shop, or explore, Orlando Party Bus can provide comfortable and stylish transportation. We pride ourselves in making the process of procuring transportation, be it for business or pleasure, simple and convenient. Our online quotes and reservation staff make this a reality. Our wide selection of charter buses, shuttle buses, and minibuses can accommodate groups from 20 to 50 plus passengers. Are you planning a wedding in Weston, FL and are looking for wedding transportation. Search no further! We have a wide selection of colors and styles available as well. Do not let transportation worries keep you from enjoying your stay in Weston. We will get you where you want to go safely and comfortably. Sit back and relax and enjoy the ride! We hope to see you soon!
---
Charter Bus Rental FAQ
How much does it cost to rent a charter bus?
Typically a charter bus rental can average $160 per hour to $200 per hour depending on many factors such as number of passengers and trip length.
How many people can you fit in a charter bus?
Charter Buses come in many different sizes from 50 passenger to 65 passengers.
How to rent a charter bus?
Renting a charter bus is a simple process that begins with a phone call. Contact us today for a free estimate on your trip.
Where can you take a charter Bus?
A Charter Bus is the perfect method of transportation for larger groups. Most Charter Buses can travel to stadiums, national parks, amusement parks, and much more!
Weston Charter Bus Prices
| Vehicle Type | Vehicle Passengers | Hourly Rates* |
| --- | --- | --- |
| 50 Passenger Charter Bus | Up To 50 | $130-$180 |
| 55 Passenger Charter Bus | Up To 55 | $180-$230 |
| 56 Passenger Charter Bus | Up To 56 | $230-$280 |
| 60 Passenger Charter Bus | Up To 60 | $280-$400 |